First Friday Films would like to invite you to a showing of PLANEAT this Friday, May 3rd at 6:30pm at American Memorial Park's theatre.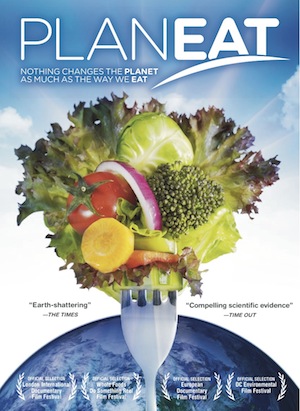 PLANEAT is the story of three men's life-long search for a diet which is good for our health, good for the environment and good for the future of the planet. With an additional cast of pioneering chefs and some of the best cooking you have ever seen, the scientists and doctors in the film present a convincing case for the West to re-examine its love affair with meat and dairy. The film features the ground-breaking work of Dr. T Colin Campbell in China exploring the link between diet and disease, Dr. Caldwell Esselstyn's use of diet to treat heart disease patients, and Professor Gidon Eshel's investigations into how our food choices contribute to global warming, land use and oceanic deadzones. With the help of some innovative farmers and chefs, PLANEAT shows how the problems we face today can be solved, without simply resorting to a diet of lentils and lettuce leaves.
Before the film, Kate Campbell, a dietitian on Saipan, will talk about building our own healthy diets. You can check out her blog at
www.VeggieKate.com
First Friday Films is a partnership between American Memorial Park, the Division of Environmental Quality, Coastal Resources Management and the Humanities Council with support from other organizations. This film is sponsored by DEQ. As always, our film events are free and open to the public. This event will run about 70 minutes.